You will find more information on the Art Ambassadors board located just by the corridor to the library.
As a school, we are continuing our Artsmark journey; to aid this we have identified a pupil from each year group to train as Arts Ambassadors. They will take on leadership roles and contribute to our Pupil Voice around arts and culture in the school. They will have the opportunity to work with the arts co-ordinators and attend their own training and help to make important decisions based on the Artsmark journey.

The Artsmark Award is a creative quality standard for schools which is accredited by Arts Council England. This will allow us to develop and celebrate our commitment to arts and cultural education. The Artsmark will help to:
build young people's confidence, character and resilience through arts and cultural education

embed creativity across the whole curriculum and use it to address chool improvement priorities

celebrate our long-term commitment to cultural education with pupils, parents and our local community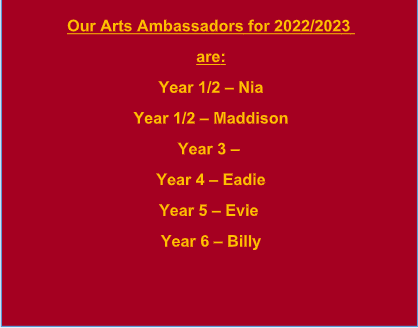 Our Arts' Ambassadors will show commitment to their role and give up their own time to carry out their duties. Their role is to promote the Arts – music, dance, drama and art - across the school. They will do this in a variety of ways, for example by helping to organise school-wide events such as Big Art around the school and the art exhibition; running arts focused clubs during lunchtimes and helping out in practical ways.
They will also seek out the views of other children in their class, through discussions and questionnaires, on how the arts provision in our school could be strengthened. Their input will help to shape a varied and vivid curriculum in these areas.